Operation PAL™ News
---
2015:
2014:
2013:
---
2012 Newsletters
---
2011 Newsletters
---
2010 Newsletters
---
2009 Newsletters
Address for Cards to Marines:
Marine's Name & Co.
c/o Operation PAL™
PO Box 758
Columbia, MO 65205
How to Contact Us
By Phone:
Monday - Friday
9:00am-5:00pm
(Central Time)
573-449-2003

Spread the Word About Operation PAL™
---
How You Can Help

Important Note
Operation PAL™ is not a pen pal program. Due to the nature of the injuries or illnesses, Wounded Heroes in the program are not able to respond to letters and cards received.

Mailing Address
Please mail all cards and letters to the following address:
Hero's Name/Company
c/o Operation PAL™
PO Box 0758
Columbia, Missouri 65205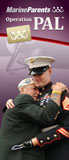 Please help us spread the word about Operation PAL™. Call our office we will be glad to send you brochures you can use to inform others, present ideas to your school or church group, or hand out at informational gatherings.
Suggestions for sharing brochures and information:
Your office or work place; post a brochure on employee bulletin boards if permitted
American Legion, VFW Posts, and Marine Corps Leagues
Churches, Synagogues and other worship centers
Scout Troops and Scout Council Offices
Schools, Colleges, Universities, Fraternities, Sororities
Recruiting Offices, ROTC Offices, Military Academies
Social clubs, Neighborhood activity centers
Senior Citizen centers
Craft clubs and Scrapbooking clubs